The DU Puksta Scholars Program is an enriching four-year scholarship program and community open to Denver high school students who have been accepted to the University of Denver and who have an interest in social justice.
The 2023 Puksta Application is now closed. Check back in January 2024 for the next cycle.
Email Us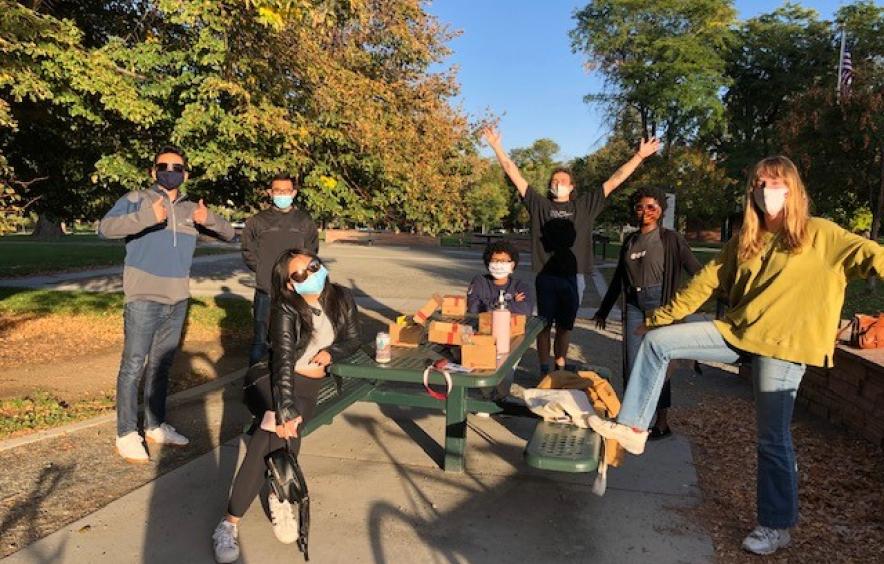 Puksta Scholar Experience
Scholars will engage in public work internships and projects. Throughout the four-year program, Scholars develop a meaningful commitment to community work, develop civic skills, create sustainable community partnerships, and receive mentorship. While scholars work on independent or small group public work projects, they also work together as a larger Puksta community, supporting, mentoring, and leading one another in collaboration with staff from DU's Center for Community Engagement to advance Scholarship and Learning (CCESL). To see our current Puksta Scholars, check out our Puksta Profiles. 
Core Concepts Scholars Learn
Collaborative Social Change Relationships

Through meaningful collaborations with communities, Scholars develop relationships rooted in reciprocity, mutuality, and collaboration. Among these and other pathways, Scholars develop the knowledge, skills, and commitments to become agents of collaborative change. 

Community Organizing and Emergent Strategy 

We apply the philosophy and skills of the community organizing process to inform how Scholars build partnerships for community engagement. We also value the principles and elements of Emergent Strategy in our quest to fulfill our vision of collaborating with communities to improve lives.  

Critical Civic Engagement 

Each Scholar will engage in a variety of activities to develop their civic knowledge, skills, dispositions, and experiences that are centered around the eco-social justice issues and communities they are most passionate about. Through pathways such as contextualizing social justice issues, anti-oppression analysis, and critical reflection, Scholars will serve as models of civic and social responsibility promoting positive change within our communities.
Program Benefits
Scholars receive support in integrating their experiences, academics, skills, and passions to advance their civic identity development and pursuit of social justice with communities. This is done using the community organizing model via curricular and cocurricular trainings and critical reflection. 
Current Puksta Scholars say they value the meaningful commitment to community-engaged social justice work that is strengthened by CCESL coursework, program curriculum and biweekly meetings, retreats, mentorship, and group collaboration. They also enjoy the inclusive community, which provides a sense of solidarity among diverse individuals and an engaging and fun atmosphere that promotes long-term friendships and personal growth.
The annual scholarship of $6,000 is renewable for four years. Scholars also have access to trainings, retreats, conferences, and funding for projects 
The University of Denver Puksta Scholars Program works closely with the Puksta Scholars Programs at Colorado State University, Metro State University of Denver, University of Colorado Boulder, and University of Colorado Denver. All five programs are generously funded by the Puksta Foundation. 
Eligibility

Who can apply?

Incoming first-year students who are Denver residents and have financial need (FAFSA Estimated Family Contribution of 2.5 times Pell eligibility) can apply for the Puksta Scholars Program after receiving their letter of acceptance from DU's Office of Admission. Scholarship recipients must have resided in Denver for at least three (3) years prior to receiving the scholarship and will be expected to provide proof of residency to the Puksta Foundation if awarded the scholarship.

Selection Criteria

What are the criteria?

Puksta Scholars are selected based on their demonstrated interest in:

developing personal commitments to social justice and the public good
critically reflecting on their experiences, identities, and values
civic engagement, academic learning, and engagement with a diverse community

Applicants are not expected to enter the program with community engagement experience. We encourage anyone interested in making a difference and addressing injustice to apply. Additionally, scholarship recipients must have resided in Denver for at least three (3) years prior to receiving the scholarship, and all applicants must demonstrate financial need, which is evaluated by DU's Office of Financial Aid.

Selection Process

How are Scholars chosen?

Applications are reviewed by the Center for Community Engagement to advance Scholarship and Learning (CCESL), and qualifying applicants will be invited for personal interviews. Financial need is evaluated by DU's Office of Financial Aid.
John Macikas, Student Programs Manager