Crimson & Gold Awards
CCESL honors outstanding students by nominating an undergraduate and graduate student in the following categories annually: Public Good Student of the Year, Service Student of the Year, and Community Organizer of the Year. These students are recognized through the university-wide Crimson & Gold Award Ceremony put on by the Office of Student Engagement.
Public Good Student of the Year

This award honors a student who has demonstrated outstanding commitment to the public good by applying their knowledge and intellectual resources to enhance social capital and community development.

2023 Winners:

Graduate: Jenna Wyatt, Environmental Policy & Managemen | Jackie Tran, Social Work
Undergraduate: Eli Zehe, Geography, Political Sciences, and Geographic Information Sciences

2022 Winners:

Graduate: Jessica Villena Sanchez
Undergraduate: Brandon T

2021 Winners:

Graduate: Mandeep Karki
Undergraduate: Kelly Bonk  

2020 Winners:

Graduate: Farduus Ahmed
Undergraduate: Margarita Soltero

Service Student of the Year

This award honors a student who has demonstrated passion and dedication to service, reflecting critically on their experiences and addressing root causes of community issues through service.

2023 Winners:

Graduate: Ashton Mach, Viola & Music Theory
Undergraduates: Seraphina Loukas, Molecular Biology

2022 Winners:

Graduate: Derek Brannon
Undergraduates: Megan Holiday & Sarah Schuller

2021 Winners:

Graduate: Meghan McCarroll
Undergraduate: Mawusi Danso

2020 Winners:

Graduate: Emily Leeper
Undergraduate: Isaac Vargas

Community Organizer of the Year

This award honors a student who has demonstrated outstanding community organizing skills and leadership by organizing others to take action on a critical social justice issue in the DU and/or Denver community.

2023 Winners:

Graduate: Mona Moayedi, DU/Iliff Joint Program in Religion
Undergraduates: Will Sciepko, International Studies & Public Policy

2022 Winners:

Graduate: Bert Evans-Taylor
Undergraduates: Daniela Chavez & Marissa Martinez Suarez

2021 Winners:

Graduate: Dilkush Khan
Undergraduate: Elsa Dienema  

2020 Winners:

Graduate: Josie Ampaw
Undergraduate: Samantha Helgeson
Puksta Scholars
The DU Puksta Scholars Program is an enriching four-year scholarship program and community open to Denver high school students who have been accepted to the University of Denver and who have an interest in social justice.
Learn More
Kimmy Foundation Community Service Professional Award
The Kimmy Foundation's mission is to support youths who exhibit creativity, character, and compassion in keeping with the life and ideals of Kathryn Dougherty Galbreath. This award, given to a graduating senior from DU's traditional undergraduate program, highlights the Kimmy Foundation's efforts to support those who give to others and lead the way toward helping their community.
Learn More
Scholar Development & Fellowship Advising
CCESL student programs enhance student's competitiveness for external fellowships. The Office of Scholar Development & Fellowship Advising, established in 2022, can further support students and recent graduates from across the university in their development as scholars through pursuit of external awards. In most cases, external awards are funding and programming to help pursue a purposeful activity beyond DU, such as research, language study, or public service. The Office of Scholar Development & Fellowship Advising can help students build on their work at DU and pursue external awards that can maximize their impact as well as their professional, scholarly, and personal growth.
Newman Civic Fellowship

The Newman Civic Fellowship is a year-long program that recognizes and supports student public problem solvers at Campus Compact member institutions. DU may nominate one fellow each year based on their potential for public leadership and their work with communities. Throughout the fellowship year, Campus Compact provides fellows with opportunities to nurture their assets and help them develop strategies for social change—creating a network of connected and engaged student leaders who can support one another in making positive change. 

2023: Daniela Chavez 

2019: Amanda Wittebort 

2018: Liliana Diaz-Solodukhin 

Truman Scholarship

The Harry S. Truman Scholarship Foundation awards merit-based scholarships to support graduate study leading to a career in government or elsewhere in public service. Truman Scholars receive up to $30,000 for graduate or professional school, participate in leadership development activities, and have special opportunities for internships and employment with the federal government. DU may nominate up to 4 eligible juniors each year.  

Other External Awards

Learn more about external awards: there are so many awards out there! SDFA can help you think through what opportunities might be the best fit for your goals and interests.  
Public Good Photo Showcase
Each year, students, faculty, and staff from across campus are invited to submit a photo and a written statement reflecting on the impact community engagement has had on their experience at DU. Photos and written statements are then displayed in the Community Commons Art Gallery from May to June. Awards are presented to those whose entries best illuminate the CCESL pathways below. 
THINK

Recognizes submissions that exemplify the pursuit of knowledge to inform action, such as being able to contextualize a social justice issue, understanding of civic and democratic processes, and/or the various ways of working for social change.

CONNECT

Recognizes submissions that exemplify artist's ability to develop relationships rooted in reciprocity, mutuality and collaboration committing to act for the public good. 

REFLECT

Recognizes submissions that exemplify the artist's understanding of their place within the community and their responsibilities with and to others.

ACT

Recognizes submissions that exemplify the artist, becoming a skillful agent of change, such as applying an anti-oppression analysis to inform community-engaged activities or working collaboratively for social change.

EXEMPLARY ENGAGED PATHWAYS

This award is the highest honor, demonstrating an integration of the four pathways, Think, Connect, Act, Reflect, accompanied by creative, high-quality imagery that captures the artist's engagement.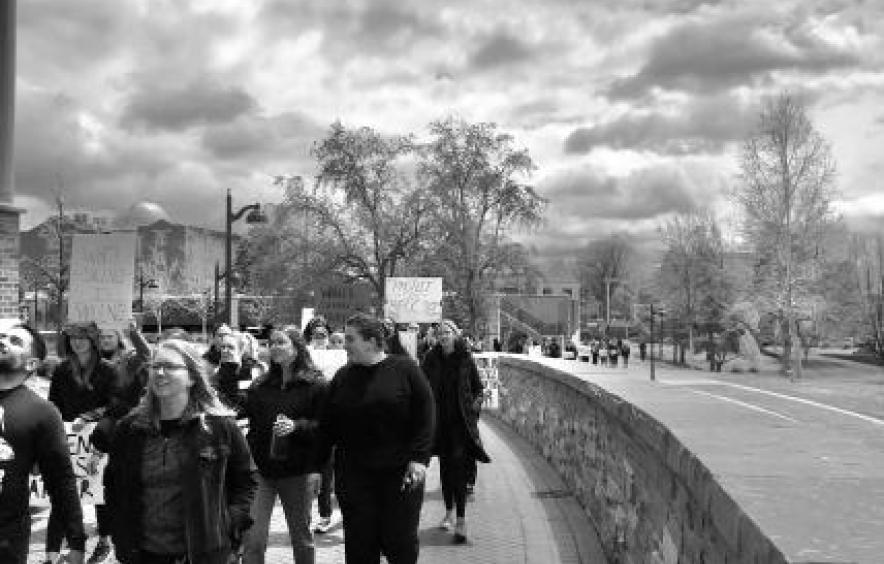 EXEMPLARY ENGAGED PATHWAYS Award: Conner Goode
"Less Talk More Action"
This photograph is a photo of strength, resistance, and unity. As institutions of oppression continue to threaten the necessity of education, lifelong learning, and curiosity, it is more imperative than ever to push back towards equality and equity for all. This photograph symbolizes the bravery, strength, and courage of graduate student within the Graduate School of Professional Psychology as they protested against an unjust system of privilege. Different programs including masters and doctoral students, alongside supportive staff and faculty, marched against the deep injustices imbedded within this institution. This photograph, deprived from color, symbolizes the times this institution is living in, one of the past and not of the future. The diverse faces marching as one shows a front that cannot be divided when faced with such daily difficulties. Hopefully, this photograph will instill a sense of combatting feelings within the audience. Feelings of hope and sadness, alongside feelings of pride and anger, all working together to rebuild this institution into what it should be, a place of learning and growth for all.
"Serving looks and Iftar"
CONNECT Award: Mi Nai San
Featuring the Southeast Asian Student Alliance and the Muslim Student Alliance
---
During the month of Ramadan a lot of Iftar dinners were hosted but the most memorable one to me was this one. The South Asian Student Alliance and the Muslim Student Association came together and did a collab together. MSA brought their dates to brake fast while SASA got Indian food catered. Both of my world's/identities collided and came together which made it memorable for me. In this picture me (left) and Shreya (right) the president of SASA posed before serving food to those who fasted and those who didn't. A women can't fast while menstruating so it felt nice doing a good deed by serving overs, something Ramadan is all about.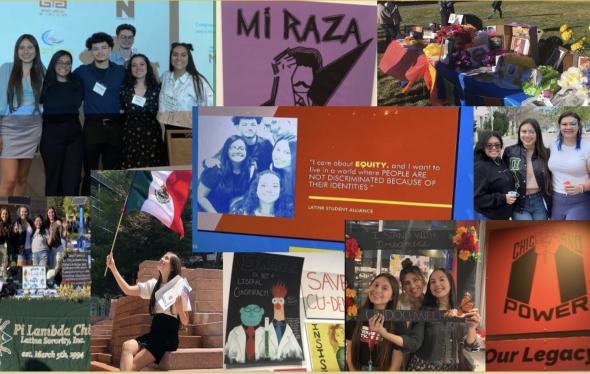 Featuring work with Access and Transitions, Latine Student Alliance, Latinos in Heritage Congreso, and Pi Lambda Chi Latina Sorority, Inc. 
CONNECT Award: Marissa Martinez Suarez
Throughout my triumphs, victories, and failures, I have never forgotten my Latine community. My community has taught me so much through their dynamic personalities filled with self-expression, fearlessness, and resilience. I have learned through them what it means to be part of a whole. I understand that the connection we share is one where we look out for one another. The emotional support they have provided me through hard times has allowed me to get where I am now. This year through the platforms offered by community partners, I have been able to engage with my Latine community, grow in my cultural identity, and define what being a Latina means to me. The following collage reflects events I've gotten to host with my community and opportunities I've gotten to engage in. From spending the day learning about the conservation of Latine Heritage in Denver, CO, and the efforts being put forth to working with different organizations in the promotion of cultural awareness and inclusivity, I've been able to see and promote the representation I lacked growing up. Together with my community, we've been able to create spaces for mutual empowerment.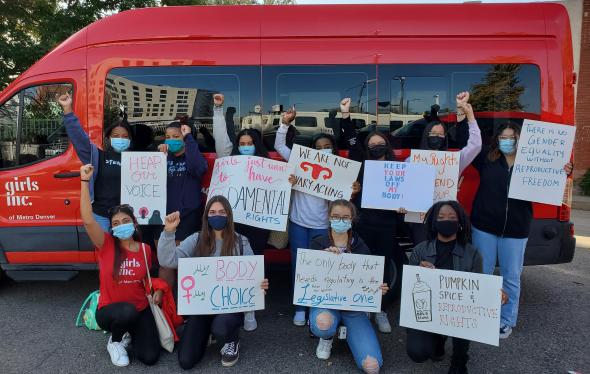 Featuring work with the Girls Inc of Metro Denver, Leadership Out Loud program
ACT Award: Sunjoi Gandhi
After the Texas Heartbeat Act, communities across the nation came together to show support for those seeking abortions without appropriate access. In Denver, various organizations came together to demonstrate how easily accessible reproductive health resources are to show support to women in Texas. Girls Inc of Metro Denver brought our advocacy and activism high school students to the rally for them to experience community coming together and how advocacy can take various different forms, one being protest.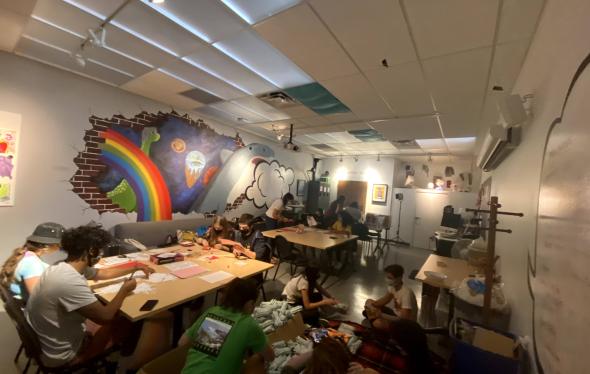 Featuring work with the Red Equity Coalition
ACT Award: Dhiona Jaramillo
This picture demonstrates a period packaging day for the Red Equity community. This represents the connect pathway for CCESL considering we brought a group from the Denver community together to give high school students volunteer hours as well as help those who are in period poverty. Period poverty refers to those who can't afford menstrual products including tampons or pads and those who may not know how to use these products or the dangers (like toxic shock syndrome) of them. From this packaging day, the packages went to Afghan refugees who had fled their country to Denver shelters.
"Gun Control Under Control"
THINK Award: John Macikas
The work of community organizing in Public Achievement requires centering youth voice, knowledge and experiences. Creating contexts in which youth can authentically share their ideas and experiences can often be a challenge. However, there was one particular moment when I felt that students realized we took their ideas seriously.
Each student had reflected and written on an issue that was important to them and their self-interest with respect to the issue. When we asked for students to share what they wrote, they were hesitant to volunteer. So, we simply went around and shared in a circle. As the students shared their issues, I decided in the moment to take out a marker and write the issues on a white board. It was at this moment that I believe the energy in the room changed. When I started writing down their ideas, the youth began to sit up, and they studied the issues on the white board with intent. As each student shared, they became more animated and interested in what they had written and what they wanted to say, and the others listening leaned in further. In short, it was as if students realized in this moment that what they had to say was not going to be minimized but rather centered in consideration of issues present in their community. When we asked what themes they saw from what they shared, students closely observed the concepts on the board and made connections, and more students began to freely volunteer their thoughts. I believe that writing ideas on the board showed the youth that we were less interested in mere answers to our questions and more interested in their lived experiences and what those meant for their public work. As we continued to discuss over the remaining weeks, I felt an authenticity and sense of ownership in the room as students began to process their thoughts about the root causes of the different issues we were exploring.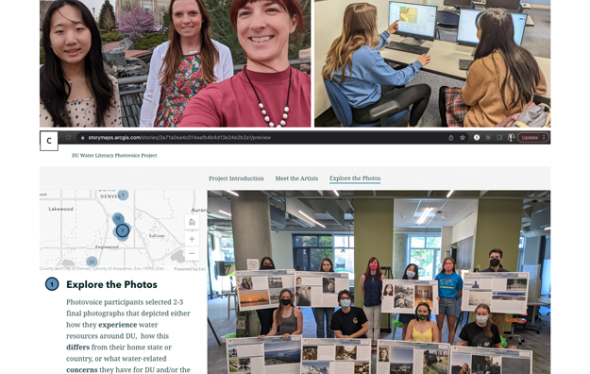 Engaging Decision-makers with Campus Water Literacy
THINK award: Meghan McCarroll
Last year's Water Literacy photovoice project demonstrated that while college students have strong interests and concerns about water resource sustainability, they often feel left out or neglected in water management processes. But where do we go from there? How can college students share their water-related needs and concerns with local water managers and decision-makers? And how can we expand the reach of a standalone photovoice project to maximize its impact and allow project results to live on? Our reflections on these questions, paired with discussions from local community partners and water educators, led to the creation of a story map centered around the Water Literacy Photovoice project. The goals of the story map are threefold: to continue to share the photovoice project results well beyond the final exhibit; to invite broader participation of DU's student body by allowing them to share their own water-related thoughts and photos; and to provide an interactive tool to local water decision-makers that helps them to understand and engage college students and their various water literacies.
Pictured here is the team of student scholars who assisted with the creation of our story map (Photo A – Scholars Juanlin Liu and Katie Yocum with Fellow Meghan McCarroll. Missing Caroline Daley). The process required learning technical knowledge about ESRI products and spatial data displays (Photo B – Katie Yocum and Juanlin Liu collaboratively work on building a map of water resources). The end result is a beautiful, engaging and interactive story map (Photo C – a screenshot of the story map, with a picture showcasing the photovoice project participants and their photo displays at the final exhibit) that can be shared on indefinitely with both DU's student body and local water decision-makers.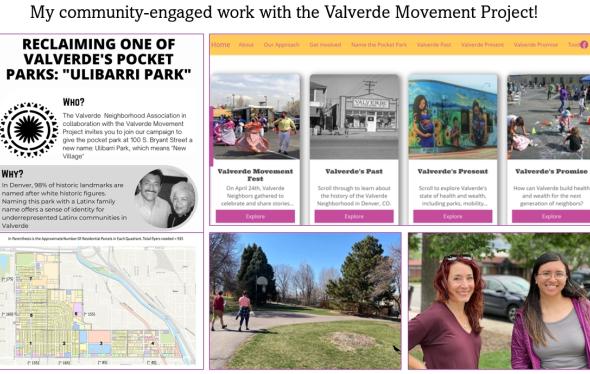 Featuring work with the Valverde Movement Project
REFLECT Award: Jessica Villena Sanchez
I joined the Valverde Movement Project (VMP) in February 2021. This project seeks to bring community health and wealth to Valverde, a historically marginalized and redlined neighborhood in west Denver. Through several community engagement events and constant communication with community leaders and members of the Valverde Neighborhood Association, VMP has worked to empower this community by uplifting their stories of resiliency, strength, and hope for a brighter future. VMP has also created a hub site where Valverde's stories of past promises, present opportunities, and future hopes are shared in the form of story maps. More recently, VMP is supporting Evon Lopez, a local community activist, in naming a pocket park located in Valverde in celebration of her parents who were also community leaders and, among other things, participated in Denver's Chicano Movement and founded "Servicios de la Raza", an organization that provides mental health services to Latinx communities.
Personally, being a part of CCESL's Fellow program helped me realize how relevant it is do work that actively engages disadvantaged communities and uplifts their stories. CCESL creates a wonderful space to discuss the relevance of community engaged work that seeks to create more just communities by, for example, undesigning previous redlined constraints. As a Geographer, as an immigrant, as a Mexican scholar, I see how much we need to not forget about the history of our cities, listen to people's stories, and build trust with community members. I loved being a part of the VMP and CCESL's Fellow program, my only complaint is that I didn't join sooner!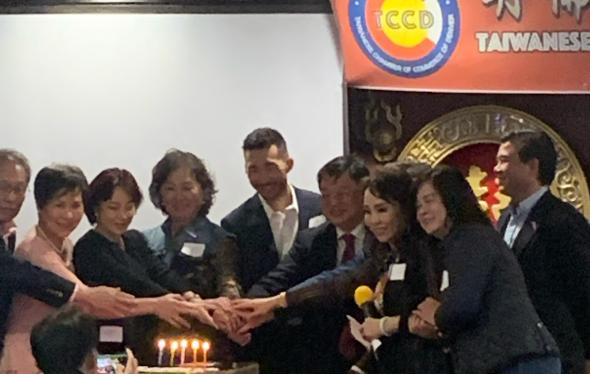 Featuring work with The Taiwanese Chamber of Commerce of Denver (TCCD) and The Empress Seafood Restaurant.
REFLECT Award: Calvin Lee
This is surely a blurry photo, but my favorite nonetheless. This photo was taken last night at the local Taiwanese Chamber of Commerce of Denver annual fundraiser and celebration event hosted at The Empress Seafood Restaurant. The TCCD is a coalition of local Taiwanese and Chinese community leaders, teachers, and business owners that gather to discuss ways of increasing community engagement in the local Denver community as well as bolstering economic pathways between Denver and the country of Taiwan.
Not only does the TCCD bring together various organizations, businesses, restaurants, and community members, but also bridges intergenerational gaps as well with the onboarding of new members, such as myself. This photo showcases a traditional Chinese custom of community cake cutting (which includes many photos taken for memories). Here, I am holding the cake knife with various community figureheads: TCCD board members, entrepreneurs, restaurant owners, school district board members, teachers, and more as we also celebrate the upcoming May birthdays and change into a new cycle in the Lunar calendar. This cake-cutting custom, as well as the event itself, signifies not only an expansion of community engagement across the Taiwanese and Chinese communities in Denver, but takes a step in ensuring that torch is passed down intergenerationally.
Anna Antoniou, Associate Director