Public Good Fund for Faculty
The University of Denver's vision is to be "a great private university dedicated to the public good." As a means to achieving this vision, the Center for Community Engagement to advance Scholarship and Learning (CCESL) oversees an annual fund of $100,000 to promote and increase community-engaged research and creative work that involves faculty and community. 
What is Community-Engaged Scholarship?
At DU, community-engaged scholarship:
Addresses public problems;
Emphasizes the co-production of knowledge in the context of reciprocal and mutually beneficial partnerships with community stakeholders;
Values critical approaches that strive for equity and inclusion;
Demonstrates strong collaboration with community partners in all stages of the research or creative work process, from proposal and project development to implementation and dissemination.
Includes dissemination to multiple audiences (e.g., traditional academic audiences, community audiences).
CCESL defines community broadly to include university-community partnerships with nonprofits, grassroots organizations, government agencies or entrepreneurs/businesses.
The 2022-2023 Public Good Fund deadline has passed. Check back in Fall 2023 for the next cycle.
View 2022-2023 RFP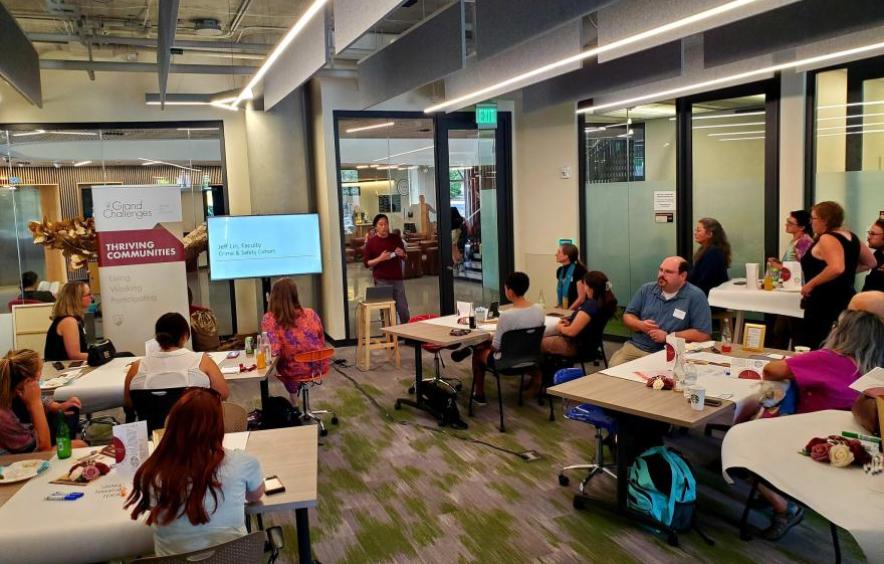 Funding Types and Amounts
Public Good Grants

Grants up to $15,000 are available for projects that will result in measurable public impact through community-engaged research or creative work that is conducted in the context of mutually-beneficial and reciprocal community partnership. Please note that the Public Good Fund Review Committee welcomes proposals with smaller budgets, particularly in cases where faculty are new to community-engaged research or working with relatively new community partners.

Public Good BRIDGE Grants

Grants up to $20,000 are available for well-established projects where bridge funding is needed to sustain an ongoing project as faculty pursue external funding for long-term sustainability. The BRIDGE grants recognize that lapses in funding while seeking external, sustainable funding can threaten the stability and potential long-term impact of projects. Projects eligible for BRIDGE funding should, similar to Public Good Grants, demonstrate community-engaged research or creative work conducted in the context of mutually-beneficial and reciprocal community partnership.
Public Good Fund Final Report Templates
Past Funded Work
View some of the past work supported by a Public Good Grant.
Note: CCESL programs, including this one, undergo an antiracist, anti-oppression review at least annually. In 2020, the review process led to revision of the program description and application materials; changes in the composition of review committee to include 1-2 community members; the addition of training for grant reviewers as well as information sessions for potential applicants.